WORKOUTANGEL IN ASSOCIATION WITH CERISPORT PRENATAL PROGRAM
Join the WorkoutAngel Prenatal Programme today to access a choice of fantastic online fitness classes all tailored to your growing body.

For as little as £25 per month you can have unlimited access to all of the WorkoutAngel Prenatal modules!    TRY YOUR FIRST 14 DAYS FOR FREE  - £25 per month thereafter.

Save
Save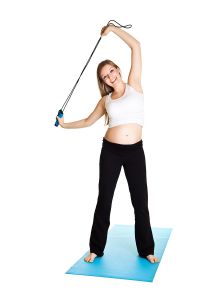 YOU ARE EXPECTING A BABY, CONGRATULATIONS!
As soon as you are pregnant huge changes are happening in your body and the miracle of a new life growing inside you is about to take you on the ride of your life! You may be experiencing a few rough bumps and in your first trimester it is very common to feel very tired and nauseous. You are also adjusting to the idea of being pregnant and possibly feeling a mixture of excitement and apprehension. This journey is a journey of the unknown, every pregnancy is different.
You may not feel like taking part in your usual exercise regime and I encourage you to listen to your body and go with how you are feeling.
As you begin your second trimester you may feel more like exercising and this is when I would be happy for you to join the Prenatal Program.
BENEFITS OF EXERCISING DURING PREGNANCY
Helps you to maintain fitness / strength /flexibility
Helps maintain good posture and alignment
Stretching releases tight muscles so helps with aches and pains
We focus on core and pelvic floor strengthening and releasing to ensure the healthiest muscles
Exercise creates a feel good factor and confidence in your body and the changes it goes through
Helps with relaxation and breathing techniques
Helps with a healthy weight gain
Great preparation for the job of motherhood through practicing functional exercise
Aids recovery post birth
There is the possibility of a better birth experience
The Prenatal programme is specifically designed to help Mums to exercise safely and effectively through this wonderful and exciting time but also to prepare for the challenging job of being a Mother.
ABOUT YOUR INSTRUCTOR - CERI BARNES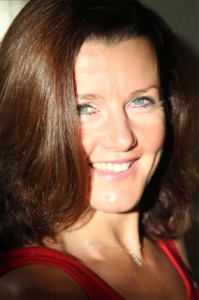 I have a level 3 pre and postnatal qualification and an Advanced Certification in Pregnancy Exercise and Birth Preparation with Burrell Education, one of the leading educators in this field.
My classes are recommended by the local Midwifery service and Health centres. Having had my own children, I can empathise with you and share my own experiences and now I have Grandchildren too I am truly in touch with little people!
We encounter so many rapid changes during pregnancy that need adjusting to. I will guide you through options as you practice the exercises as the weeks progress and give you guidance on modifying exercises if need be.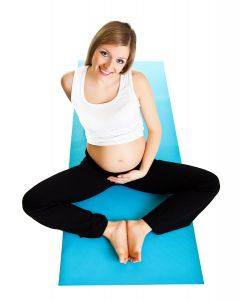 ABOUT THE SESSIONS

The exercise sessions are specifically designed for pregnancy and are a mixture of Pilates, workouts, stretching & relaxation along with strengthening & toning exercises to raise your heart rate.
During pregnancy our aim is to maintain fitness and not to make fitness goals. Whilst it isn't advisable to start a new exercise programme whilst you are pregnant, my sessions are all suitable for the 2nd trimester onwards for any mumstobe who are enjoying a fit & healthy pregnancy and have no reasons why they should not take part. Please check with your medical practitioner if you have any concerns about taking part in the sessions & only participate if you are feeling well enough to do so.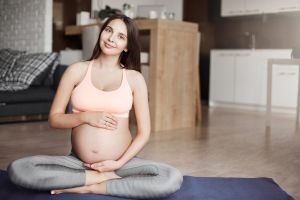 * PILATES



---
You will learn modified Pilates based exercises and motherhood movement patterns that will strengthen you specifically for the job! You don't need to have practiced Pilates or be a regular exerciser to attend. We work on strengthening the whole body; your legs, arms, bottom muscles, deep abdominals and pelvic floor. This can help prevent aches and pains including pelvic pain during pregnancy.
* PELVIC FLOOR HEALTH
---
One of my specialised subjects is pelvic floor health and I work closely with a local Women's health physiotherapist who recommends me to patients needing help to strengthen these muscles. Likewise, I refer clients if she feels they may need specific help from a specialist. I also link with other local practitioners and therapists so am able to help you if you are looking for any specific help in the Bedfordshire area.
* STRETCHING
---
Stretching and staying mobile is important during pregnancy. We can often become tight in certain muscles due to changes in posture and changes to our centre of gravity due to our growing bump. It feels great to 'iron out' those tight muscles and provides a perfect opportunity to practice some deeper breathing and relaxation which is vital to gain the best from the stretches. Stretching helps to prevent back ache, headaches and neck tension too.
* BREATHING & RELAXATION
---
Breathing and relaxation – this is a hugely important part of your program. You will benefit enormously from learning these techniques and they will help you during your labour and birth.  In the program you will find audio recordings that you can use during your pregnancy and labour to aid relaxation and focus. Your partner may like to use these recordings also!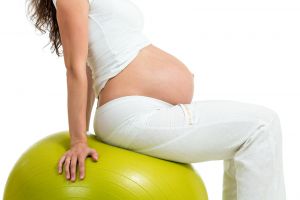 * STRENGTH & TONE FITNESS SESSIONS
---
The strengthening & toning sessions will allow you to get your heart rate up a little while enjoying the benefits of including safe and effective exercises for pregnancy. They are low impact and designed to give more of a 'workout' feel to your class.
* EDUCATION
---
My aim is to educate you as much as possible and to share any current information which may help you. This includes nutritional advice, help with discomfort you may be experiencing, pelvic floor health and guidance on birth preparation. I will be available to answer your questions as you work through the program.
* FACEBOOK
---
The Cerisport Pre and Postnatal page on Facebook is an excellent facility where I post articles, videos and useful information for you to browse at your leisure. This page is also a great way to interact with other Mumstobe and chat. I am always on hand to support you; no question is ever a silly one.
Start today - SIGN UP for WorkoutAngel Prenatal Membership for for the first 14 days ABSOLUTELY FREE,
£25.00 monthly subscription thereafter. Cancel at any time you wish.
Click the PayPal link below to begin your Membership ...



Terms - Free for the first 14 days, t
hen £25.00 GBP for each month
As soon as your PayPal subscription is set up you will be asked to provide a Username and Password for continued access, once set you can then begin viewing the workout material. Set up takes less than 5 minutes. You can stop your subscription at any time via your PayPal account.
Emails from WorkoutAngel may go into your SPAM filter so please put us on your 'Allowed' list as your membership details will be emailed to you as confirmation. For any sign up issues please contact info@workoutangel.co.uk.
WorkoutAngel is an International online business - we welcome subscriptions worldwide. Your subscriptions will be paid to us in your native currency (the equivalent of 25 GBP) and then converted back to GBP when it reaches us.

Save


I look forward to helping you to have a happy and healthy pregnancy and birth!
Sign up today for a TWO WEEK TRIAL FREE!